Lakshadweep Tour Packages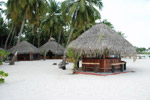 Lakshadweep islands lie about 220 to 440 kms off the Kerala coast between 8° and 12° North Latitudesand 71° and 74° East Longitudes. The islands are connected to mainland by passenger ships and flights operated from Kochi. The islands comprise of 420 sq km of Lagoon rich in marine wealth and 36 islands in an area of 32 sq km. Each island here is fringed by snow white coral sands. The crystal clear water and the rich marine flora and fauna enhance the mystique of these islands. Against the vast blue sea, the island look like emeralds. The huge wall-like reef bordering the outer side of the shallow lagoons blocks the incoming swells of the sea..
The Islands are linked to the mainland by ship, helicopter, passenger planes and Mechanized sailing wooden vessel. Agatti and Bangaram can be reached by air And the others by ship from Kochi. The temperature increases from South to North; April and May are the hottest with temperatures averaging at 32 c.
3 Nights & 4 Days Package from ARIES...
Rs. 30,300/- per person on twin sharing basis.
Cost Includes:
►accommodation on full board basis
► Air ticket (Cochin-Agathi-Cochin)
►Boat transfers (airport-resort-airport)
Facilities Provided:
►Air-conditioned room at Island Resort:
► Various water sports fecilities.
►Usage of Health Club:
Cruise Ship packages:
►Samudram
►Coral reef
►Swaying palm
►Scuba diving packages (Including certification)
Deluxe Package at Kadmat Island Resort